Feeding milk to your calves is essential to obtaining a dairy cow that will provide a maximum yield all her life.
High growth levels during the calf period is connected to a lower age when conceiving and a higher milk yield during both the first and the second lactation period. Experiments have shown that if the calf's birth weight has been doubled when the calf is eight weeks old, this means a much higher amount of milk during the first lactation period compared to a traditional heifer that grows 10.6-17.6 oz (300-500 g) per day during the milk feeding period. Another interesting observation is that approximately half of the effect is carried on during the second lactation. It seems that the high level of milk feeding during the first few weeks in particular is responsible for this effect. At the same time, the calves are healthy and strong, and the death rate is low.
If the heifer is small at the time of the first insemination, this will damage her ability to reproduce, her ability to calve without any problems and her yield during the first lactation. Therefore, as a minimum, she should be doubling her birth weight within the first 56 days.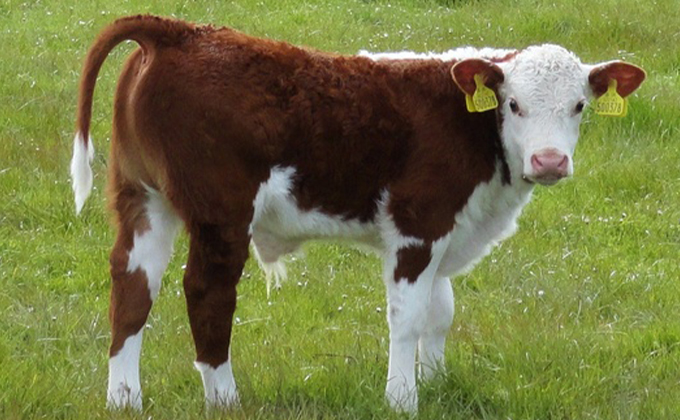 Milk-related diarrhoea is caused either by a bad milk quality (a high content of bacteria and/or a dry matter content that deviates from the optimal 13.5%) or bad management. This includes, as an example, a feeding temperature below 38 degrees, bad hygiene, contagion from calf to calf, or insufficient cleaning and disinfection procedures.
REMEMBER! Energy is the direct source of an efficient immune system
Feeding plan for calf breeding
Recommendation, big breed (jersey):
Colostrum 0.88-1.32 gl (4-6 l) within the first 3-4 hours after birth
0-4 weeks: 1.72-2.2 gl (8-10 l) (1.1-1.54 gl (5-7 l)) of milk per calf/day
5-7 weeks: 1.1-1.32 gl (5-6 l) (0.66-0.88 gl (3-4 l)) of milk per calf/day
Gradual cutback from a high to a moderate amount of milk, e.g. by 0.22 gl (1 l) per day.
Only one daily milk feeding during the last week before weaning
You can also give the calf an amount of milk that equals 20% of the calf's body weight during the first four weeks, then cut back to 10% by five weeks and wean it during 7-10 days by six weeks. 
Spend the first three days increasing to the full amount of milk, preferably using colostrum/transitional milk.
Temperature and body weight
Temperature and body weight are important measures in terms of dosage. High weight and/or low temperature = higher dosage A gradual cutback of the amount of milk increases the absorption of compound feed.  Apart from the rumen's ability to utilise the energy within the dry food, absorption levels also influence the development of rumen capacity.
IMPORTANT! Use 5 oz (140 g) of milk powder per 0.22 gl/1 ll of water. The temperature of the milk must be 40 degrees when feeding. This also applies to any water offered afterwards.
If you would like to find out more
FAQ
Find the answers to general questions
Download
Get brochures, logo packs and product descriptions
References
Read our customer cases here
We are happy to assist
0045 7070 1540
Need consultancy regarding cattle?
Contact Bjørn at tel: 0045 7070 1540
DanVit A/S
Borumvej 51
DK-8381 Tilst
Tel: 0045 7070 1540
mail@danvit.dk