DanVit = Danish knowledge and experience.
Our mission is to ensure that feed is never the limiting factor in terms of growth!
Our mission is to ensure that feed is never the limiting factor in terms of growth!
DanVit wants to deliver quality products and consultancy services that increase growth both in terms of production and bottom line.
We want to be the preferred partner to our customers, both in terms of delivery and composition of feed products, and we want to offer product utilisation consultancy services.
Our methods are based on down-to-earth, practical and honest consultancy services, adjusted to fit the animal group.
We want our customers to have only the best.
The best quality, the best consultancy services and the best economy.
We ensure that by always fulfilling our DanVit values:
The customer is always our first priority

We keep our promises

Credibility

Top-class quality

Service-mindedness

Solution-orientation

Order consultancy services
At DanVit, we prioritise quality and a proper diet for your animals.
Our innovative employees are constantly striving to obtain new knowledge and find new solutions to meet future demands.
DanVit delivers suitable feed solutions and consultancy services.
We have many years of practical farming experience, including feed optimisation of minerals, concentrates and feed mixes of a high quality for pig farmers.
Differing needs
require various solutions

HOW DID IT ALL START?
Morten Gregaard and Henning Sørensen shared a dream of creating a better alternative for the market based on a passion for competent consultancy services, good ingredients and healthy feed mixes, and they founded DanVit in 2010 to make this dream come true. The company might be young, but the employees possess several years of experience within the industry.
Who are we?
Throughout the years, DanVit has expanded and today we have eight employees in Denmark. Our subsidiary in Serbia is currently planning shop no. 3. Through our Serbian office and by opening physical shops, we are able to work closely with people in Eastern Europe.
CONSULTANCY SERVICES
At DanVit, we are passionate about good-quality ingredients and correct consultancy services.
Consultancy through a DanVit employee takes place as an equal dialogue at the farm so that we can base our decision on your livestock. When you engage in consultancy services from DanVit, we find out how you and your production can obtain maximum benefits without compromising on quality.
Competent feedback
When we enter into a cooperation, we are by your side all the way and we assist you in achieving the optimal management strategy for your production conditions.
We share our knowledge and always strive to cooperate innovatively for the purpose of becoming an even better partner for you.
We plan, tailor-make and implement
Planning
We visit your farm and provide our consultancy services based on your animals. We adjust to the needs of the farmers and continuously follow the development of future farming procedures.  Cooperating with you, we plan the perfect feed solution for you and your animals.
Farm meeting
Our vision is to be the most credible supplier of customer-specific feed solutions based on cooperation confidence. For this reason, we meet at your farm.
We base our decisions on you and your animals.
Action plan
Based on our knowledge and experience, we optimise the feed mix to fit your farming conditions. We assist you in understanding what a feed mix adjustment can do for you and your bottom line.
Implementation
We are with you all the way.
When you choose a solution in cooperation with DanVit, we assist you throughout the entire process. We provide competent feedback and consultancy services at your farm whenever needed. We help you implement your new feed solutions.
Although we are very proud of our achievements, we let the numbers speak for themselves.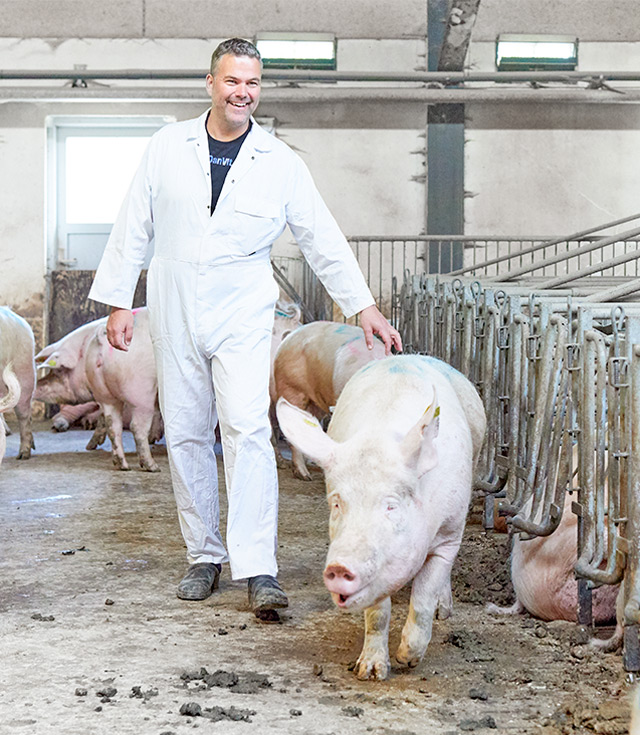 66% OF THE DANISH MEAT CONSUMPTION IS PORK
The Danes like their meat – especially pork. On average, each Dane eats 96.8 lbs (44 kg) of meat each year, of which 66% is pork. In comparison, the average Dane only eats approx. 17.6 lbs (8 kg) of poultry per year.
90% OF ALL DANISH PORK IS EXPORTED
The majority of pork produced in Denmark is exported. This yearly export market has a value of approx. € 4 billion.
SUCCESS HAS MANY FATHERS
Suckling pig: A new-born piglet feeding on it mother's milk.
Piglet: A pig that does not feed on its mother's milk any more (from 15 to 66 lbs/7 to 30 kg).
Slaughter pig: A pig with an age between 10 weeks and 4-6 months
Young sow: A female pig that has not mated yet.
Gilt: A female pig that is gestating for the first time.
Sow: A female pig that has farrowed (mother pig).
Boar: A male pig (father pig).
Hog: A castrated male pig.
Index 118
In Northern Jutland, people eat more chops for dinner, index 118, compared to index 67 in Copenhagen.
On the other hand, the favourite dinner dish in Copenhagen is falafel, listed as index 253 of the food index "Coops MadOMeter".
In Western Jutland, parry shells are the favourite dinner dish.
232 lbs (105 kg)
That is how much a pig weighs when it is brought to the slaughter house. At that time, the pig is 5-6 months old.
13.2 m PIGS
On July 1st 2020, the total size of the Danish pig population amounted to 13.2 m pigs. Within the EU, Germany, Spain, France and Poland have the biggest pig populations. Denmark comes in fifth, closely followed by Holland and Italy.
We are happy to assist
0045 7070 1540
DanVit A/S
Borumvej 51
DK-8381 Tilst
Tel: 0045 7070 1540
mail@danvit.dk