DanWean® Ultimo contains milk products, healthy and highly refined protein sources as well as acid and organic materials.
This composition ensures optimal absorption and utilisation of nutrients in the pig.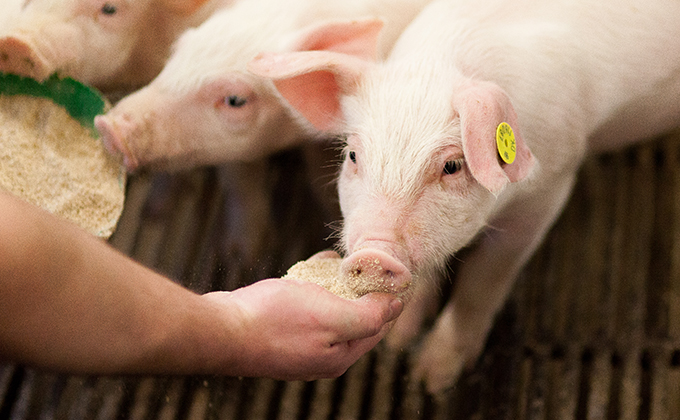 DanWean® Ultimo 17.6-28.6 lbs
REFINED PROTEINS
DanWean® Ultimo has been developed to ensure maximum absorption and utilisation of nutrients. DanWean® Ultimo is a composition of healthy and highly refined protein sources, acids, organic materials and milk products.
HEALTHY FINANCES
DanWean ® Ultimo focuses on optimal growth and the nutrients are adjusted to suit the pig, providing you with optimal growth, low feed consumption and healthy finances.
DanWean® 
A unique product series for weaning
DanWean® feed has been composed and produced according to the principle that you get the best result if you slowly move your piglets from a digestible, liquid milk source to a corn and vegetable-based feed. By using various types of initial mixes, there is always a good chance that even the smallest piglet is given the needed nutrients through the feed.
Feeding the "average piglet" is not an optimal solution because that means that the smallest piglet is overlooked. Therefore, the DanWean® feed range has been composed for usage for piglets from approx. 6.6 lbs (3 kg) and up.
If you would like to find out more
FAQ
Find the answers to general questions
Download
Get brochures, logo packs and product descriptions
References
Read our customer cases here
We are happy to assist
0045 7070 1540
Do you need consultancy regarding your piglet feed
Contact us at tel: 0045 7070 1540
DanVit A/S
Borumvej 51
DK-8381 Tilst
Tel: 0045 7070 1540
mail@danvit.dk