Sour liquid iron for piglets
OptiJern maintains an optimal level of haemoglobin and contains a liquid iron solution that offers easily absorbable iron lactate, organic acids and electrolytes. Used for suckling piglets from day 1 to day 24 during the weaning period.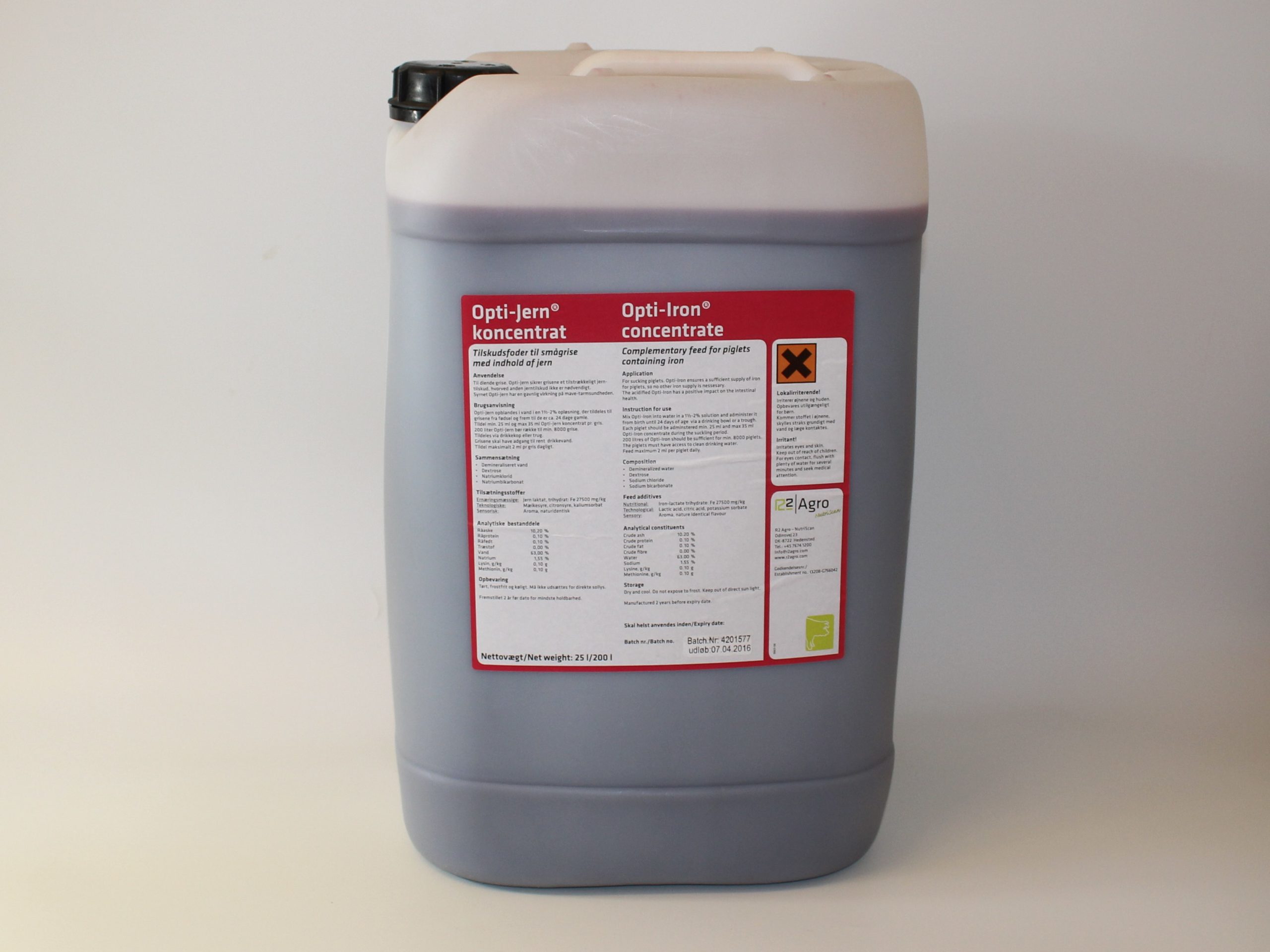 USE
Is provided in a 1.5-2.0% solution in a drinking cup or a trough.
The pigs must have access to clean drinking water.
ADVANTAGES
Provides sufficient iron to the pigs, thereby removing the need for further iron supplements.
Ensures an optimal haemoglobin level.
HIGHER WEANING WEIGHT
Can lead to a higher weaning weight (+ 0.5-1.0 lbs/200-400 g)
In certain cases, it can reduce the occurrence of joint inflammation
Minimum delivery of 5 canisters of 55 lbs (25 kg) each or 2 containers of 44 gl (200 l) each per order
Liquid iron is an admixture which is simply added to the pigs' drinking water.
Pigs need iron supplements, just like humans do, and by adding liquid iron to the water, you ensure that the pigs have an optimal haemoglobin level.
If you would like to find out more
FAQ
Find the answers to general questions
Download
Get brochures, logo packs and product descriptions
References
Read our customer cases here
We are happy to assist
0045 7070 1540
Do you need consultancy regarding your piglet feed
Contact us at tel: 0045 7070 1540
DanVit A/S
Borumvej 51
DK-8381 Tilst
Tel: 0045 7070 1540
mail@danvit.dk