DanVit has many years of experience in terms of developing and selling livestock-specific mineral mixes for pig farmers in Denmark and abroad, and we are good at what we do.
But how can we claim that?
Because in total, we have many, many years of farming experience. Our knowledge is not only based on theories but just as much on practical experience, facts and our knowledge of animal groups and animals in general. At DanVit, we base our decisions on the actual conditions of each livestock. Afterwards, we compose the feed mixes and then we deliver mineral mixes and concentrates for the sole purpose of you, the pig farmer, being successful in terms of production and animal well-being.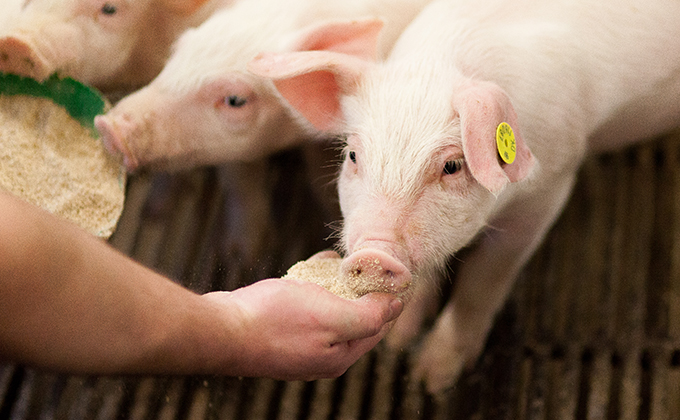 GOOD LEVEL OF STOMACH HEALTH
HIGH LEAN MEAT PERCENTAGE
Livestock-specific mineral and vitamin mix.
As an example, a Danish pig is a product of several years of breeding, and apart from Danish pig farmers, nobody in the world has managed to create such a specially designed animal.
Let all this breeding work pay off for you by using the mineral and concentrate mixes from DanVit which are perfectly adjusted to fit your livestock.
When we compose the mineral or concentrate mixes for your animals, we find out which ingredients are available to you and base our choice on that information, amongst other things.
The mineral and concentrate mixes from DanVit are optimised each and every time, based on a balanced level of precision that takes all current conditions into account. As an example, we consider ingredient availability, the health of your animals, the climate, the physical setting and the profit that you are aiming for.
At DanVit, we work according to the motto:
"We are only successful if you are successful."
We look forward to hearing from you – this might be the first step towards new goals!
If you would like to find out more
FAQ
Find the answers to general questions
Download
Get brochures, logo packs and product descriptions
References
Read our customer cases here
We are happy to assist
0045 7070 1540
Do you need consultancy regarding your piglet feed
Contact us at tel: 0045 7070 1540
DanVit A/S
Borumvej 51
DK-8381 Tilst
Tel: 0045 7070 1540
mail@danvit.dk